Bradford Derustit Wonder Gel - Stainless Steel Pickling Gel
Wonder Gel tutorial for pickling and passivation
Bradford Derustit Wonder Gel is a proven stainless steel cleaner for the removal of the toughest scale, heat discoloration, and slag. Wonder Gel is a proven solution for stainless steel pickling and passivation that works within minutes. The application is simple and the results consistent. Learn just how easy the process is with the tutorial below. In addition, we've also created a video outlining the simple steps to clean and restore stainless steel.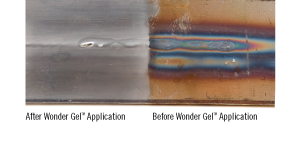 HOW TO USE:
Apply a thick layer of Wonder Gel directly to weld bead and/or areas with black oxides and heat discoloration. Room temperature is recommended.

Let sit for approximately 10- 20 minutes depending upon the surface (longer for heavier discoloration) May use a light bristle brush at this step if desired.

Rinse surface thoroughly with water and let air dry.
Pickling and passivation are done easily and quickly with Bradford Derustit Wonder Gel. In this video tutorial, we show you the process from start to finish.
For over 50 years, Bradford Derustit has been a leading manufacturer of stainless steel pickling and passivation products in the North America: United States, Canada, and Mexico. We listen to the needs of our customers and provide solutions for their stainless steel cleaning needs in various industries including food & beverage, surgical, chemical processing, and water treatment.